Well Inspections
About two-thirds of Wisconsin's population drinks water drawn from over 750,000 private wells. Wells are safe, dependable sources of water if sited wisely and built correctly. Unlike public water systems, protection and maintenance of a private well is largely the responsibility of homeowners. Well and pressure systems need to be installed and maintained properly to provide adequate safe drinking water. Ground water contamination is a growing concern. Many wells are illegally installed or left open after discontinued use causing water contamination in the area.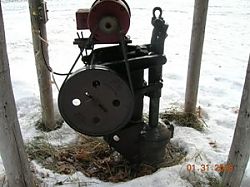 A 1930's Well Still in Use
It is important to know that your private water source was built correctly and protected adequately. A well and pressure system inspection may be required by lenders when you buy, sell or refinance your home.

During the inspection we will explain how your well has been installed, how to maintain the well, and offer suggestions for repairs or abandonment that is needed. As a Wisconsin Department of Natural Resources Licensed Pump Installer and Registered Well Inspector, we will identify the components of the well for you and offer you an accurate report on the performance by testing and verify code conformity when inspecting the well. Water samples are drawn and tested from the well to determine if the water is safe for consumption.
Property Transfer Well Inspection Fact Sheets