Septic Inspections
Identifying the type and performance of the septic system is crucial to preventing health and environmental hazards. Certainly, no one wants to move into their new home and have a sewage backup. The typical time such a problem occurs is when a large gathering overloads a failing system or an improperly installed system.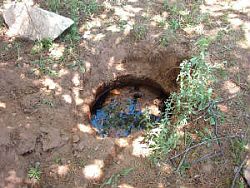 Failed Septic System

New or old, proper design and installation is important to maximizing the system's life. Septic system failures can be unsightly, foul smelling and can threaten your family's health. There's a risk of contaminating your well water, resulting in costly repairs or system replacement. A septic system inspection may be required by lenders when you buy, sell or refinance your home. So, ignoring a septic system inspection could cost you money in the long term!
We will provide information on how the system functions, how to maintain the system, and offer suggestions for repairs or replacement of different components that are defective. Current septic system installation standards may require replacement of an older system with a much more expensive system. A septic inspection will help alert you to those unwanted replacement costs and unsafe conditions.