Pre-Sale Inspection
The housing market is strong today. With a strong market home owners having trouble selling their home or want to provide as much detail as possible about their house may benefit from a pre-sale home inspection. Buyers are becoming more savvy and diligent in their searches and therefore are looking for more information about a home before making an offer. Additionally, in the case of "as is" (foreclosure, estate sale, etc.) buyers want to know what "as is" is before making an offer. Using a home inspector near me (you) can help the seller sell there home knowing they were as honest as possible about the current condition of there house.
Professional Reports Can Help You Sell Your Property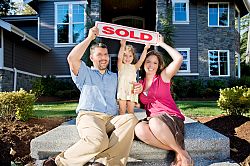 A house inspection provided by Home Inspector Gary Roholt provides an opportunity for sellers to improve the marketability of their property. And for prospective buyers to get a good feel for the condition of the property that they are buying before they make their offer. We have worked with sellers and realtors frequently over the years conducting pre-sale inspection. One realtor reported that her elderly clients sold their property "as is" quickly even with significant defects on there home inspection report after the property sat without any interested buyers for a long time.
The Reporting Process
The sellers or their representative contact A Plus Inspections by phone at (715) 790-0656 or via web site and request an inspection of their property.
Inspector meets with seller (client) at the property or arranges to conduct the inspection if the client cannot attend.
The client receives a detailed inspection report via email along with building consulting and recommendations for repairs.
Use the report and consultation to conduct repairs in an order of significance.
Client can show that repairs have been made by providing receipts from professionals after repairs have been completed or have A Plus Inspections may do a follow up inspection if non professional repairs have been made. (not recommended if you are not qualified to do the repairs.)
Report is emailed to you for review.
Report is a PDF file that is easily forwarded on to prospective buyers.
Who Can Benefit From This Program?
Anyone serious about selling a property
Sellers of occupied or unoccupied property
Estate sales
Real Estate auctions
Bank REO's
Real estate investors.
Property buyers of all types.
Realtors
Lenders can use inspection reports and tests results for underwriting loans. All reports are backed by appropriate credentials.
This program is an exclusive offering by A Plus Inspection Specialists LLC and Home Inspector Gary Roholt. Rates for services vary depending on the size, age, location of the property, multiple properties, and the types of inspections or testing requested buy the client.