Home Inspection
Our Home Inspection provides an in-depth visual analysis of a house typically involved in a real estate transaction. The house inspection is an invaluable learning experience during which your questions can be answered on the spot. We wholeheartedly encourage you to accompany us during the entire home inspection. A professional home inspection by Home Inspector Gary Roholt gives you an independent, unbiased view of any problems and their solutions, so that you will have all the facts you need to make a sound, informed decision.
The Home Inspection Report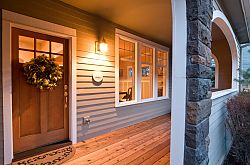 The Home Inspection Report provides a detailed list of items visually inspected with written comments describing the current condition of the systems and components that make up the house being inspected. An on-site verbal report is provided for the client, typically a prospective buyer, that explains the concerns and the good points found during the 2.5 to 3 hour house inspection.

Clients benefit from a properly conducted home inspection by learning of notable defects in the components of a house that can pose a significant safety risk and/or can present a substantial unexpected expense after a home is purchased. Often, homeowners are not aware of these problems and benefit from a professional disclosure provided by the home inspector.
What is the House Inspected For?
Gary's Home Inspection will include itemized reporting of the current condition of the following:
Lot and landscaping
Building exterior claddings
Windows
Doors
Flashing/caulking
Decks/steps
Walkways, patio's
Roofing, penetrations, flashings
Foundation
Framing, structure
Electrical system
Heating system
Plumbing system

Attic insulation and framing
Air conditioning
Air management & filtering
Basement and/or crawlspace
Kitchen
Bathrooms
Interior (walls, floors, ceilings, closets).
Laundry
Garage/driveways
Safety and health risks
Signs of leaks and abnormal condensation